We have 22 rooms, characterized by their elegant touch of minimalist decoration; Each of them, including the suites, are identified in a different color.
As an oasis in the historic and cultural center of the city of Bogotá - capital of Colombia and for a long time known as the South American Athens - Hotel Casa Deco is located in the oldest, romantic and colonial neighborhood: "La Candelaria" We offer All the comfort, kindness and good design that will make your stay in our hotel a pleasant and unforgettable experience.
With an excellent service, guaranteed by the personalized attention of its Italian-Colombian owner and a friendly and efficient staff, for Casa Deco it is very important that each of its guests feel well attended, so that whenever you pass through Bogotá you feel like to return or recommend our hotel to a friend.
TERRACE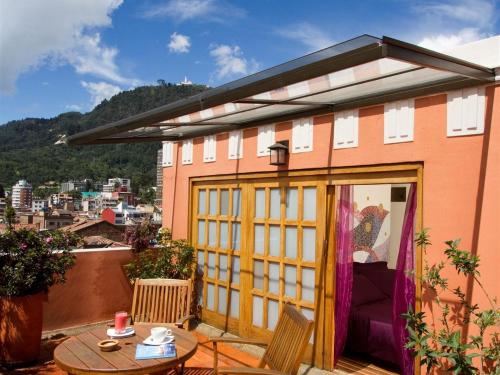 Terrace of 300 square meters, where our guests can enjoy a glass of liquor or snacks, while enjoying an impressive view of the city.

Fitness center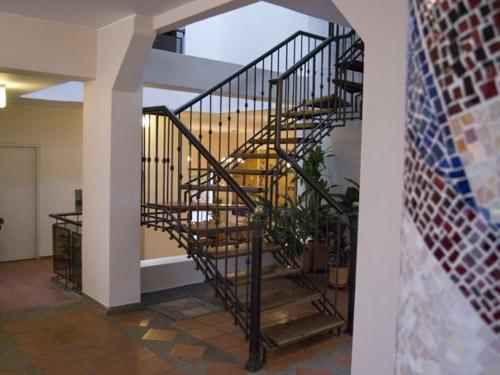 Although our stairs serve as a gym ... for those who like to exercise and want a more professional service, we have several gyms located a few minutes from our facilities; the reception staff will indicate with the help of the map of the area, the place where you will find them, you will not have excuses for not exercising.
Transport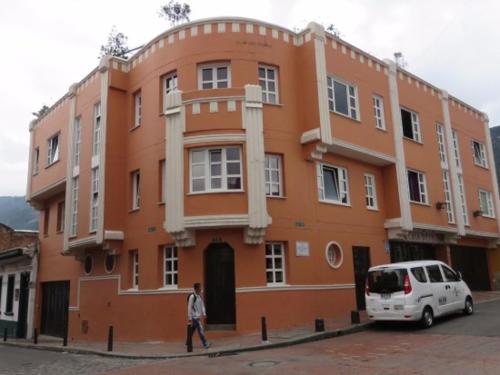 We have private cars and professional drivers willing to provide the services of: pick-up and / or transfer to the airport, hourly services or tours inside and outside the city.
The cost of the Airport - Hotel route is $ 50,000 Col Pesos (from 5:00 am - 9:00 pm) or $ 65,000 Col Pesos (from 9:00 pm to 5:00 am)
The cost of the Hotel - Airport trip is $ 40,000 Col Pesos (from 5:00 am - 10:00 pm) or $ 45,000 Col Pesos (from 10:00 pm to 5:00 am)

To book this service please write to reservas@hotelcasadeco.com
Laundry
If after so many trips your clothes need a sweetie, send her to our laundry, where she will be given that touch of home.
In the closet of your room you will find a plastic bag, where you can put your clothes to be washed. Just fill out the form found with this bag and leave it on the bed or call the reception to have a person pick it up directly in your room, so you can send your clothes to be washed and you will find it back in your same day room as long as it is delivered before noon.
Pub
Come and enjoy our bar, a place where you can relax with our typical "Canelazo" cocktail.
Our bar is at your disposal where you will find national, craft beers and wines.