Contamos con 22 habitaciones, caracterizadas por su elegante toque de decoración minimalista; cada una de ellas, incluyendo las suites, están identificadas de un color diferente.
Como un oasis en pleno centro histórico y cultural de la ciudad de Bogotá - capital de Colombia y por mucho tiempo conocida como la Atenas suramericana - Hotel Casa Deco está ubicado en el más antiguo, romántico y colonial de sus barrios: "La Candelaria" Ofrecemos toda la comodidad, amabilidad y buen diseño que harán de su estadía en nuestro hotel una experiencia placentera e inolvidable.
Con un excelente servicio, garantizado por la atención personalizada de su dueño Ítalo-colombiano y un personal amable y eficiente, para Casa Deco es muy importante que cada uno de sus huéspedes se sienta bien atendido, de modo que siempre que pase por Bogotá tenga ganas de volver o de recomendar nuestro hotel a un amigo.
TERRAZA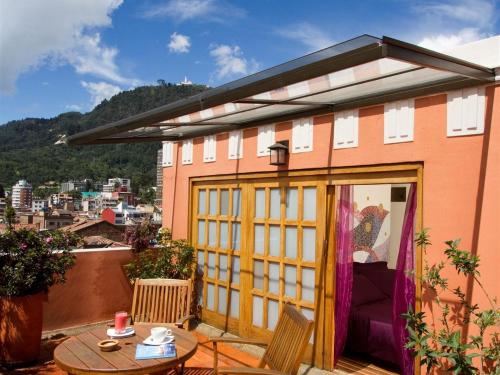 Our 22 rooms are characterized by their elegance and minimalism. Each room including the suite has its own color and they are fully equipped with Italian furniture, private bathroom, LCD TV with Cable, telephone, safety box, WIFI and Room service 24 hours..

Our social areas include a lovely tearoom, a breakfast lounge with fireplace and an amazing 300mts terrace where our guests will love to have a drink in our cozy bar while enjoying a breathtaking view of the city.
Gimnasio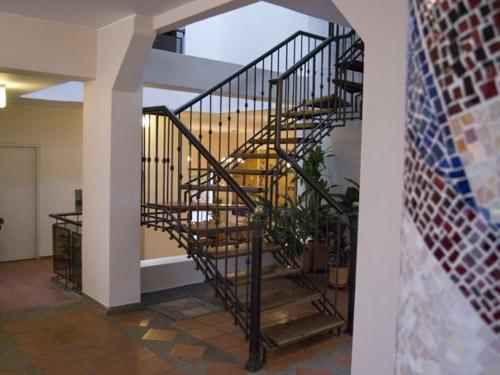 Casa Deco is like an oasis in the heart of the historical and cultural centre of Bogotá – Colombia's capital- also known as the South America's Athens- Hotel Casa Deco is located in the most antique, romantic and Colonial neighbourhood; "La Candelaria". We offer all the comfort, friendliness and fine design to make your stay an unforgettable and pleasant experience.
Customized service is the centre of our attention. We strive for this excellent service together with our friendly and efficient staff and our Italian owner. Casa Deco attempts to make each guest feels well attended and eager to come back to our hotel.
Transport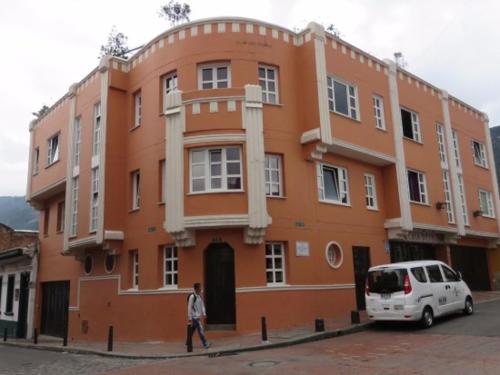 TRANSPORT
For your confort, we have private cars with driver, for services like airport pick up , drop off and service per hours .
The cost of Airport-Hotel is 50,000 pesos (from 5:00 a.m. to 09:00 pm) col 65,000 pesos (from 09:00 pm to 5:00 am)
The cost of Hotel-Airport is col 40,000 pesos (from 5:00 a.m. to 9:00 pm) col 45,000 pesos (from 9:00 pm to 5:00 am)
To reserve , please just contact us on reservas@hotelcasadeco.com
Laundry
Si después de tantos viajes tu ropa necesita un cariñito, mándala a nuestra lavandería, donde se le dará ese toque de casa.
En el armario de tu habitación encontrarás una bolsa plástica, donde puedes poner tu ropa para ser lavada. Solo llena el formulario que se encuentra junto con esta bolsa y déjala encima de la cama o llama a la recepción para que una persona la recoja directamente en tu habitación, de esta forma se puede enviar tu ropa a lavar y la encontrarás de vuelta en tu habitación el mismo día siempre y cuando se entregue antes del medio día.
Pub
Ven a disfrutar de nuestro bar, un lugar donde puedes relajarte con nuestro típico coctel "Canelazo".
Nuestro bar está a su disposición donde encontraran cervezas nacionales , artesanales y vinos.