Cooking, Friendship and Foodrticle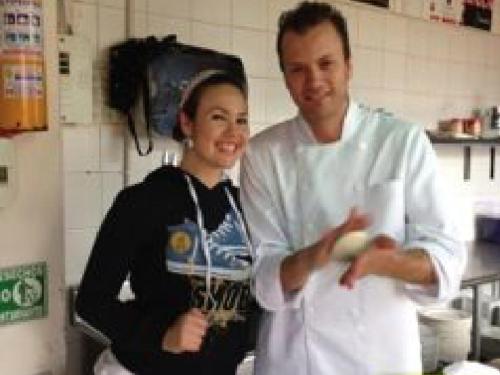 While working for the reservations department at Casa Deco a guest asked me about Colombian food and vegetable markets ( PALOQUEMADO ). I wanted to experience something different about this topic while I was on holidays in Bogota.

I loved the idea and told him that I was going to organize something unique for him and that if he did not mind I was going to be his companion during this experience.
I have agreed, so I started to prepare for him and me, something fun to do. I contacted a friend who has a restaurant in the Center of Bogota and asked him if he could help me organize this adventure. He was super excited, so we organized a tour to the vegetable and fruit market "PALOQUEMAO" and a cooking experience all together in a fantastic day.

First we were going shopping and after that we were going to head to his restaurant and he would teach us how to cook a typical Colombian dish. (I must mention for those who do not know me, I am terrible in the kitchen, so I was a little scare to burn my friend's restaurant).

When everything was ready, I picked up my friend Dan at the hotel Casa Deco and with my Chef friend Fabio, we went to Paloquemao. I must say this was better than I expected, I felt like a child in a sweet store. Even though I am Colombian, going through the market with fresh eyes and someone that really knows the place, change the point of view I had of the market. Dan and I tried everything we could; we spoke to the people in the market about their lives and bought half the market. With just this experience alone Dan was already super happy, but the best was yet to come.

After about 2 hours of market fun, we went to Fabio's restaurant. We were pretty full, but that did not stop us from trying everything we were cooking. We decided to make fish "sweat of fish" and we also made arepas and had a beer while cooking. After two hours of hard work we were done, so we sat and had even more food.


Everything was amazing; I think Fabio cooked another dish secretly, while we were not looking. Either that or Dan and I should definitely become chefs.

This experience marked my life because I saw my country in a different light and also gave me the best friend to girl can asked for.